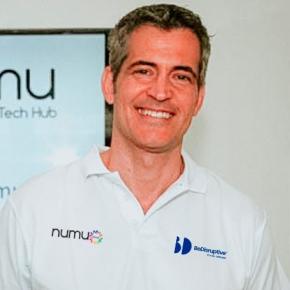 Partner, Numu-BeDisruptive LAC, USA
Javier Marín has been a social entrepreneur, tech founder and ICT for development advisor for more than 25 years; a hardworking optimist, he's committed to generating opportunities and prosperity for vulnerable communities. Javier leads the joint venture Numu-BeDisruptive for Latin America and the Caribbean, focusing on capacity building, digital transformation and cybersecurity to support institutions and corporations in a smooth and safe digital transition. He was cofounder of Dialcom Networks, the developers of Spontania, which was named "The Most Innovative Video-collaboration Software" by Gartner Magic Quadrant. With sales in more than 29 countries, Spontania was acquired by a NASDAQ-listed company in 2013. His experience developing telemedicine, remote-education and e-government solutions led him to become an ICT advisor for multilateral banks and international
agencies. In 2014, he served as director of the world's second Regional Training Center in ICT for Development, founded with the support of IADB and the Korean Government in Nicaragua. He also created the Social Entrepreneurs Group, a non-profit, focused on accelerating tech-based startups like Numu. Through his partnership with Numu-BeDisruptive and IDB Lab, he started the Regional Center of Excellence in Cybersecurity in Panama, where local talent is trained in cybersecurity, and a first-class and state-of-the-art security operations center is being deployed to deliver managed services in Latin America and the Caribbean.
Company/Organization name
BeDisruptive
Country of origin
Spain/Panamá