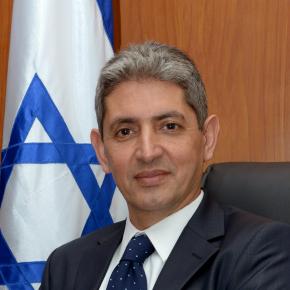 Ambassador of Israel to Panama
Ambassador of Israel in Panamá and Non Resident in Barbados, Guyana, Suriname, Trinidad & Tobago and CARICOM. He has served as the Ambassador of Israel to Brazil, Ambassador to Ecuador (at the age of 35 he was the youngest Ambassador in Israel's history), Deputy Ambassador in Portugal, Consul General of Israel in Atlanta and Dean of the Atlanta Consular Corps, and Consul in San Francisco.
Ambassador Mansour holds a PH.D from Haifa University where his doctoral work focused on the intellectual history of modern Syria.  He also holds a master's degree from Harvard University's Kennedy School of Government and speaks five languages.
The Ambassador is a longtime activist in the promotion of dialogue and integration of minorities. In recognition for his efforts for promoting African American and Israeli Dialogue, he was inducted into the Dr. Martin Luther King, Jr. Board of Sponsors at Atlanta's prestigious Morehouse College and Awarded the Israeli Prime Minister and President Award and the AJC President Award.
Ambassador Mansour received numerous awards and satiations for his innovative diplomatic Work, among them the International Heroes Award for Excellence, the "Juscelino Kubitschek" (Brazilian President) Medal of merit and the Tree of Life Award. He was chosen as one of the "100 Most Influential Atlantans" alongside many prominent figures such as President Carter and Congress Member John Louis.
In addition to his diplomatic career, Mansour is an accomplished author. He has published four books of poetry, as well as a number of short stories.  He has held readings of his works in many parts of the world. The Ambassador has received the Haáretz Annual Short Story Award, as well as the Miller Poetry Award.